The Incredible Wildlife of the Kenai Fjords
The cold waters of the north pacific, where volcanoes rise from the abyss and tidewater glaciers still make the world anew, is home to the greatest diversity of marine mammals and seabirds in the northern hemisphere. Drawn to this region by a seemingly inexhaustible supply of food in the summer months, and driven by the famous midnight sun, the glacially carved fjords of this region are the Serengeti of the marine mammal and pelagic bird world.
Humpback whales bubble-net feed before the bow of boats before launching their hulking mass skyward in jaw dropping aerial displays. Orcas cruise the waters in numbers unrivaled anywhere in the northern hemisphere as they hunt great schools of chinook salmon. Minke, gray, and the largest animal to every live on the planet, the blue whale, can be found taking part of the great summer feast while Dall's porpoise surf the bow wakes of boats. And all set to the backdrop of towering snowcapped mountains and giant walls of azure blue ice.
And then there are the birds.
The great sea stacks play home to an extraordinary array of avian life you will likely never see elsewhere. Common murres, marbled murrelets, parakeet auklets, kittlitz's murrelets, red-faced cormorants, ancient murrelets, black legged kittiwakes, and so many more. But the puffins, my God the puffins. Both horned and tufted puffins live here in seemingly impossible numbers, and the rhinoceros auklet, another species of puffin, will be out and on display with its horned bills. We will fill memory card after memory card of frame filling flight shots of them all.
On the cliffs above the water, mountain goats can be found clinging to precipices while black and brown bears forage along the shoreline. Porcupines waddle about like miniature grizzly bears as harbor seals float by riding icebergs.
New for 2023, this workshop is 5 days of wildlife photography in one of the most beautiful seascapes on Earth.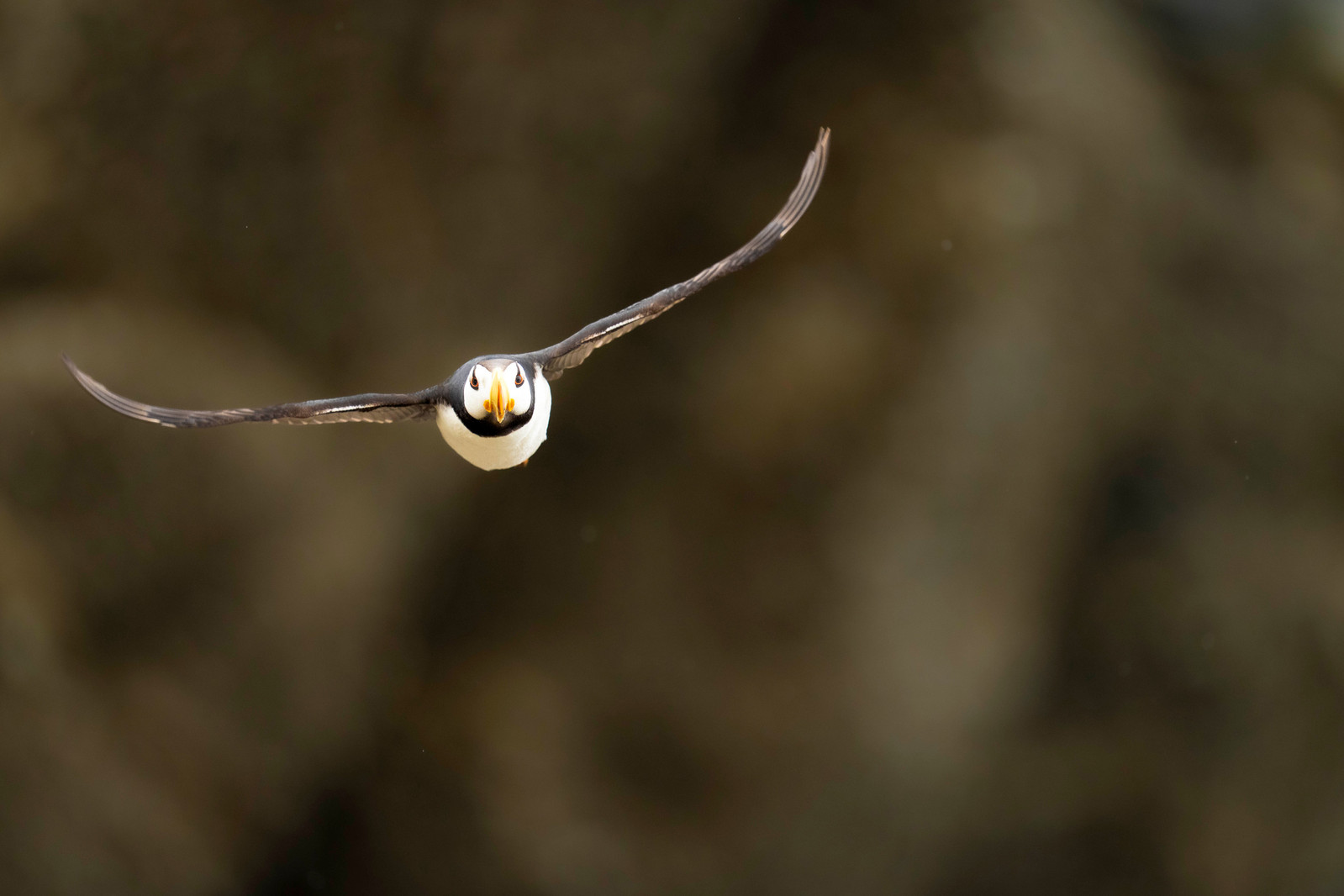 Basic Information
Dates: June 3 – June 10, 2023
Cost: $8500 ($2000 deposit)
Leaders: Jared Lloyd & Annalise Kaylor
Location: Seward, Alaska
Airport: Ted Stevens Int'l, Anchorage (ANC)
Skill Level: Beginner to Advanced
What's Included
Classroom session on the first day
Lodging
Five hands-on days in the field across several locations
3:1 Participant to Leader Ratio
The Classroom Session
We spend a full day discussing the important photographic concepts needed to take full advantage of this workshop. From low light photography to mastering birds in flight, this classroom session is designed to ensure that each participant is fully prepared for the opportunities to come. This one day will completely change your success rate for the entire workshop.
What Size Lenses Will I Need?
As this workshop will focus on species as large as a city bus down to the size of a football, you will want to bring equipment that covers a variety of different focal lengths. Zoom lenses are great for whale photography in general. Sometimes we may have orcas or humpback whales breaching right next to the boat. Other times, they may be 200 yards away when this occurs. The ability to adapt to the distance of the subject quickly can be beneficial on this workshop since working from boats is quite different from finding animals by foot.
The bird photography component of this workshop will require 500 or 600mm focal lengths. Although we will photograph birds like puffins coming and going from their nesting colony where something in the 400mm range will be ideal for light shots, portraits will require more reach.
For this workshop, lenses such as the 200-600 or 150-600 are good choices. All photography will be handheld since tripods are not conducive for working from boats. Annalise and Jared will both carry a zoom lens and a 400mm f/2.8 prime with a 1.4 teleconverter when working in this area.
We recognize that long telephoto lenses are expensive, so please do not feel like you need to own all of the lenses you may want for this trip. We personally use Lensrentals for when we need special gear and we recommend them exclusively for our clients, too.
Please feel free to reach out via email if you have any questions about your gear and whether or not it will be suitable for this workshop. We're always happy to make personalized recommendations to help set you up for success.
Will I Need a Tripod for this Workshop?
While you're welcome to bring a tripod for any other photography you may do while in Alaska, we will be working from boats for this trip. As such, the workshop photography will be handheld, as a tripod will only be a drawback while on the boat. If the weight of your gear is a concern, we recommend a monopod for extra stability.
What is the Itinerary?
Our success in the field is determined by a combination of variables, especially the weather. As such, we don't publish exact dates and locations because we will adjust the schedule as we review weather, locations, etc. Plan to be on the boat for the majority of the day, starting in the early morning. Each day, we'll enjoy lunch (box lunch provided) on the boat, as well. There is a small cabin and a bathroom on board the boat, as well. This is not a "live aboard" boat trip, however - we will return to land and our hotel every evening.
What is Not Included in the Price?
For this workshop, you should be prepared to provide your own meals, except for the box lunch provided while on the boat each day. The dock is within walking distance of our lodging. Gratuties for the boat captain and first mate are also not included. We recommend $20 per person per day.
Pre-workshop Zoom
We arrange a pre-workshop Zoom call ahead of every workshop. This is a great way to get to know your fellow workshop participants and get more detailed information at the same time. While you're always welcome to email us with questions, we've found this online "meet and greet" is the best way to answer most of the group's questions. If you have a question about gear, clothing, or what to expect, chances are that someone else in the workshop does, too.
How Strenuous is This Workshop?
This workshop is primarily on a boat each day and rated "easy," with limited physical activity. While there isn't a lot of walking involved, participants should be prepared for the moving waters.
Sign-up or Ask More Questions
If you're interested in joining us for this workshop or have any additional questions, please send me a note! We'd love to have you on this, or any one of our other workshops.